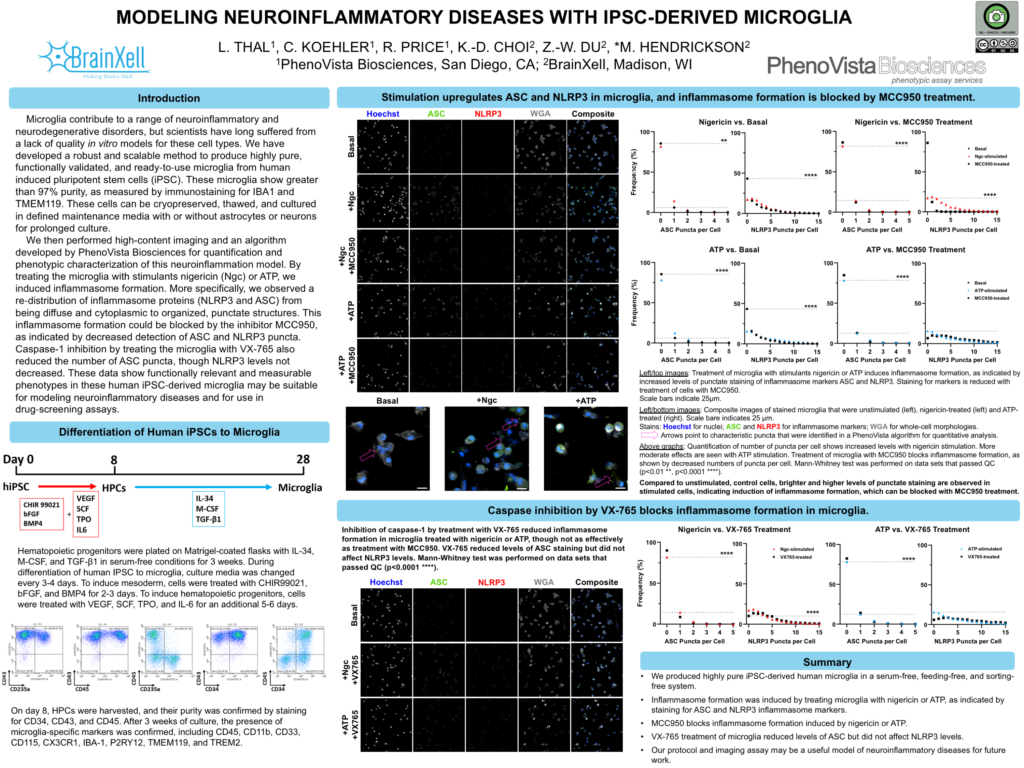 MODELING NEUROINFLAMMATORY DISEASES WITH IPSC-DERIVED MICROGLIA
Society for Neuroscience Global Connectome 2021
In collaboration with BrainXell.
Microglia contribute to a range of neuroinflammatory and neurodegenerative disorders, but scientists have long suffered from a lack of quality in vitro models for these cells. We have developed a robust and scalable method to produce highly pure, functionally validated, and ready‐to‐use microglia from human induced pluripotent stem cells (iPSC). These microglia show greater than 97% purity as measured by immunostaining for IBA1 and TMEM119. These cells can be cryopreserved, thawed, and cultured in defined maintenance media with or without astrocytes or neurons for prolonged culture. We have used high-content imaging for phenotypic characterization of these models, including observing a re‐distribution of inflammasome proteins (ASC and NLRP3) from diffuse and cytoplasmic to organized punctate structures. This inflammasome formation could be blocked by the inhibitor MCC950. These data show functionally relevant and measurable phenotypes in these human iPSC‐derived microglia may be suitable for modeling neuroinflammatory diseases and in drug‐screening assays.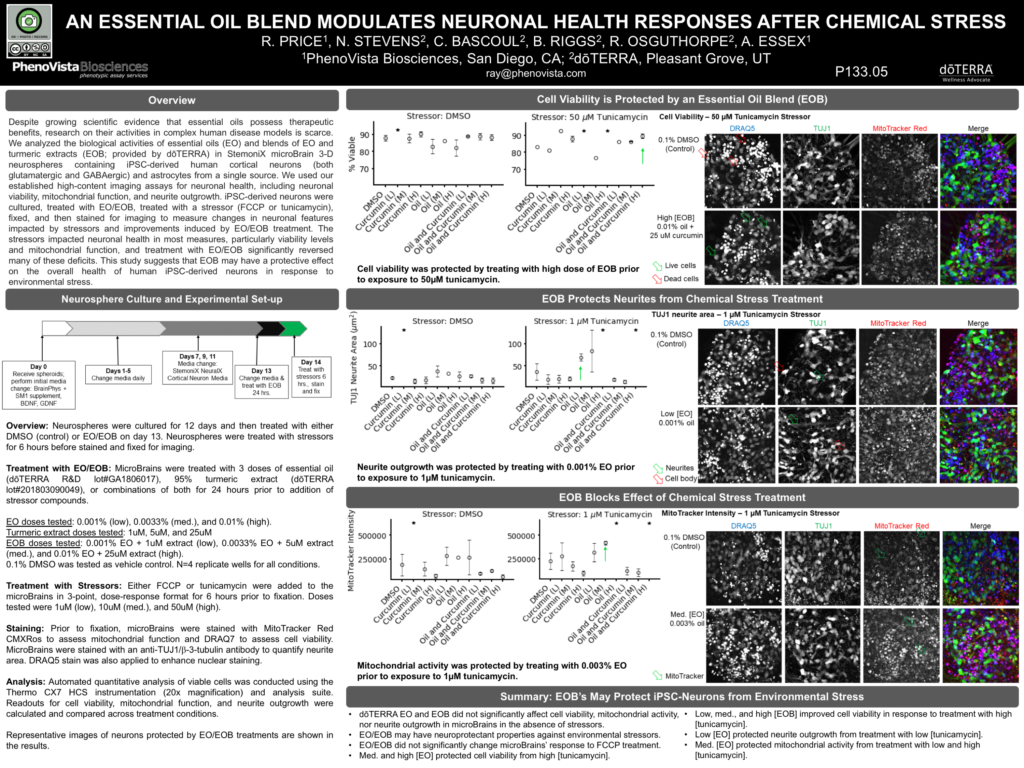 AN ESSENTIAL OIL BLEND MODULATES NEURONAL HEALTH RESPONSES AFTER CHEMICAL STRESS
Society for Neuroscience Global Connectome 2021
Despite growing scientific evidence that essential oils possess therapeutic benefits, research on their activities in complex human disease models is scarce. We analyzed the biological activities of essential oils (EO) and blends of EO and turmeric extracts (EOB; provided by dōTERRA) in StemoniX microBrain 3-D neurospheres containing iPSC-derived human cortical neurons (both glutamatergic and GABAergic) and astrocytes from a single source. We used our established high-content imaging assays for neuronal health, including neuronal viability, mitochondrial function, and neurite outgrowth. iPSC-derived neurons were cultured, treated with EO/EOB, treated with a stressor (FCCP or tunicamycin), fixed, and then stained for imaging to measure changes in neuronal features impacted by stressors and improvements induced by EO/EOB treatment. The stressors impacted neuronal health in most measures, particularly viability levels and mitochondrial function, and treatment with EO/EOB significantly reversed many of these deficits. This study suggests that EOB may have a protective effect on the overall health of human iPSC-derived neurons in response to environmental stress.