Deeper insights into neuronal cell health. Multiplexed readouts of mitochondrial health and cell viability.

Greater assurance of data quality. Optimized culture conditions with reference compounds enhance assay reproducibility and minimize noise.
Assays Designed with Your Goals in Mind
Mitochondria play a key role in driving critical cellular functions, including ATP generation, intracellular Ca2+ homeostasis, reactive oxygen species (ROS) formation, and apoptosis. Due to their relatively high energy demands, neuronal cells are particularly dependent upon mitochondrial function and therefore are likely more susceptible to perturbations of mitochondrial health. Unsurprisingly, aberrant mitochondrial function has been linked to progression of neurodegenerative diseases, including Alzheimer's disease, Parkinson's disease, amyotrophic lateral sclerosis (ALS), and frontotemporal dementia (FTD).
The Challenge
Mitochondrial health is intimately linked to the broader cell-health continuum. Evaluating measurements of mitochondrial health in the context of other general cell-health measurements is necessary to thoroughly evaluating therapeutic impact.
While these assays can be relatively straightforward to establish using immortalized cell lines such as PC-12 cells, those models may not be as physiologically relevant compared with human iPSC-derived neuronal cell types.
Our Solution
Our Ready-2-Go (R2G) Neuronal Mitochondrial Health Assay Service screens for changes in mitochondrial membrane potential in physiologically relevant, human iPSC-derived neuronal cells. This is done using a dye whose accumulation in mitochondria depends on mitochondrial membrane potential. We measure the fluorescence of this dye measured at both single-cell and population levels along with overall cell viability with a companion indicator dye. This enables us to assess the effects of your drug candidates in the full context of cell health and to better understand the variability of the response.

Cells are seeded into 384-well plates and cultured for 7 days prior to treatment. Cells are then incubated in the presence of drug for 24 and 48 hours. At these times, cells are stained for imaging and analysis. In addition to scoring mitochondrial health for all cells, this service affords gating of 3 populations of cells – total cells, live cells, and dead cells. In the images below, human iPSC-derived neuronal cells were treated with CCCP for 24 hours. Nuclei were stained with Hoechst and mitochondria with a structural marker and MitoTracker CMXRos.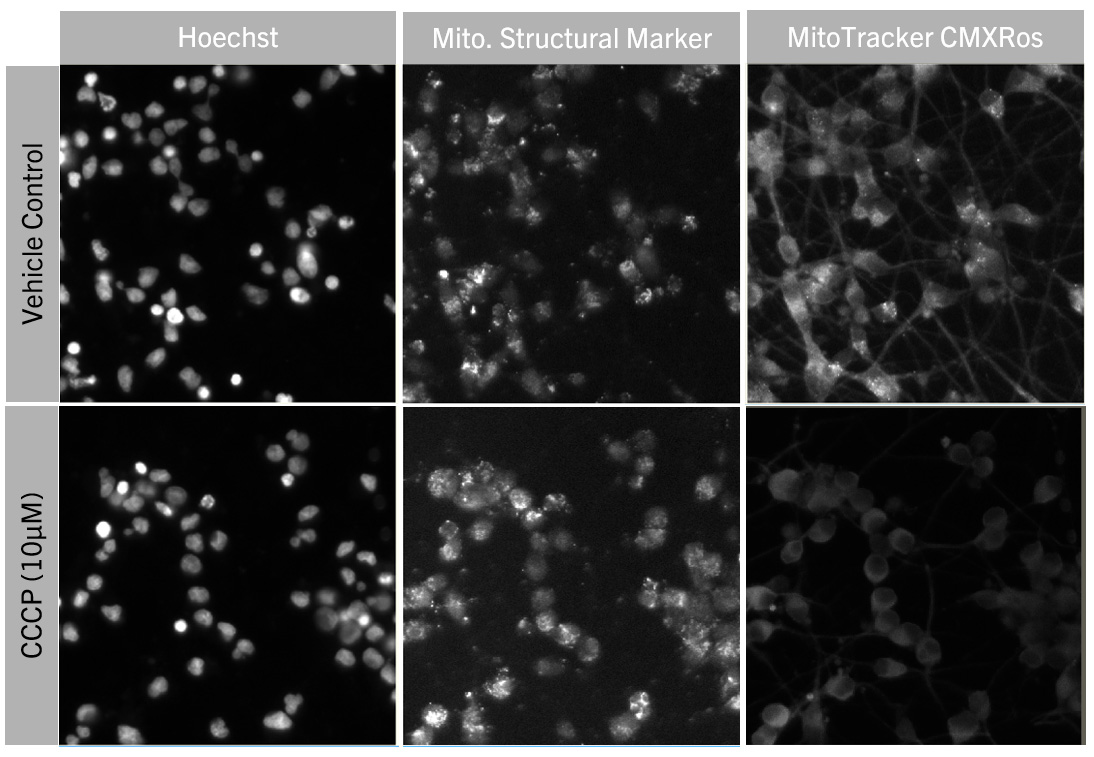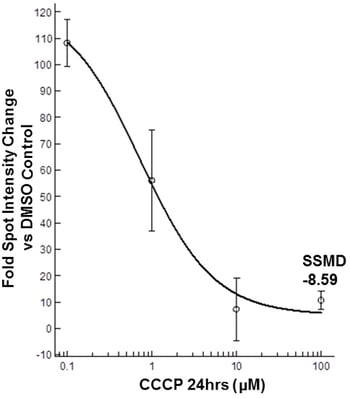 Ready-2-Go Neuronal Mitochondrial Health

Bespoke Assay Services
Cell Type
iCell Glutaneurons (Fujifilm Cellular Dynamics, Inc.)

If you would like to expand the service offering beyond R2G shown on the left, please contact us.

Markers
Hoechst (all nuclei), MitoTracker CMXRos (mitochondria), DRAQ7 (dead cell nuclei)
Dosing

6 doses of your test article

Time Points

24 and 48 hours

Reference Compound

FCCP

Assay Readouts

Total cell count, MitoTracker intensity, % viability
*Vehicle and untreated controls also included.