Deeper insights into neuronal cell health. Multiplexed readouts of viability and apoptosis.

Greater assurance of data quality. Minimal number of wash steps limits potential cell loss and assay noise.

R2G assay services are a starting point.

Transition to more complex, bespoke assay services with the same service provider.
Assays Designed with Your Goals in Mind
Evaluating the impact of therapeutics that target neurological disorders upon neuronal cell health is essential to the success of any neurobiology-focused, drug-discovery/development campaign. Additionally, identifying potential neurotoxic effects of therapeutics targeting non-neuronal disease classes is beneficial in flagging and addressing undesirable, off-target effects that could jeopardize clinical advancement, and, ultimately, patient safety.
The Challenge
Commonly, researchers may opt for a straightforward cell-viability (i.e., live vs.dead) measurement using vital dyes. These dyes selectively penetrate dead cells due to the disruption of their membrane integrity, while live cells with intact membranes remain unstained. Yet, cell health is far more nuanced; in addition to cell survival, the mechanism(s) of cell death (i.e., apoptosis vs. necrosis) may vary, depending on therapeutic activity. Apoptotic cells may classify as viable in a standard live-dead assay, although they are dying. Simultaneous measurement of cell viability, apoptosis, and necrosis with a multiplexed imaging approach is, therefore, advantageous in evaluating the overall impact of therapeutics on neuronal health, yet they can be challenging to execute. Particularly, as cells senesce in vitro, they often detach from the growth surface, rendering accurate
measurement of their viability and proliferation using standard antibody-based detection difficult or impossible due to cell loss exacerbated by the required pipetting and wash steps.
Our Solution
Considering these challenges, PhenoVista has developed the Ready-2-Go (R2G) Neuronal Apoptosis and Viability Assay Service, enabling robust, accurate, simultaneous quantification of neuronal cell viability and apoptosis using a homogeneous assay workflow with dye-based detection. This approach maximizes data quality by minimizing pipetting steps and eliminating wash steps that could exacerbate the loss of dead or dying cells.

Neurons are seeded into 384-well plates and cultured for 7 days prior to treatment. Cells are then incubated in the presence of drug for 4, 24, and 48 hours. At each time point, the neurons are stained for imaging and analysis. In the images below, hiPSC-derived glutaminergic neuronal cells were treated with staurosporine for 24 hours. Nuclei were stained with Hoechst (blue), apoptotic cells with CellEvent (green), and dead cells with DRAQ7 (purple). This palette affords gating of 4 populations of cells - live, live & early apoptotic, late apoptotic, and dead.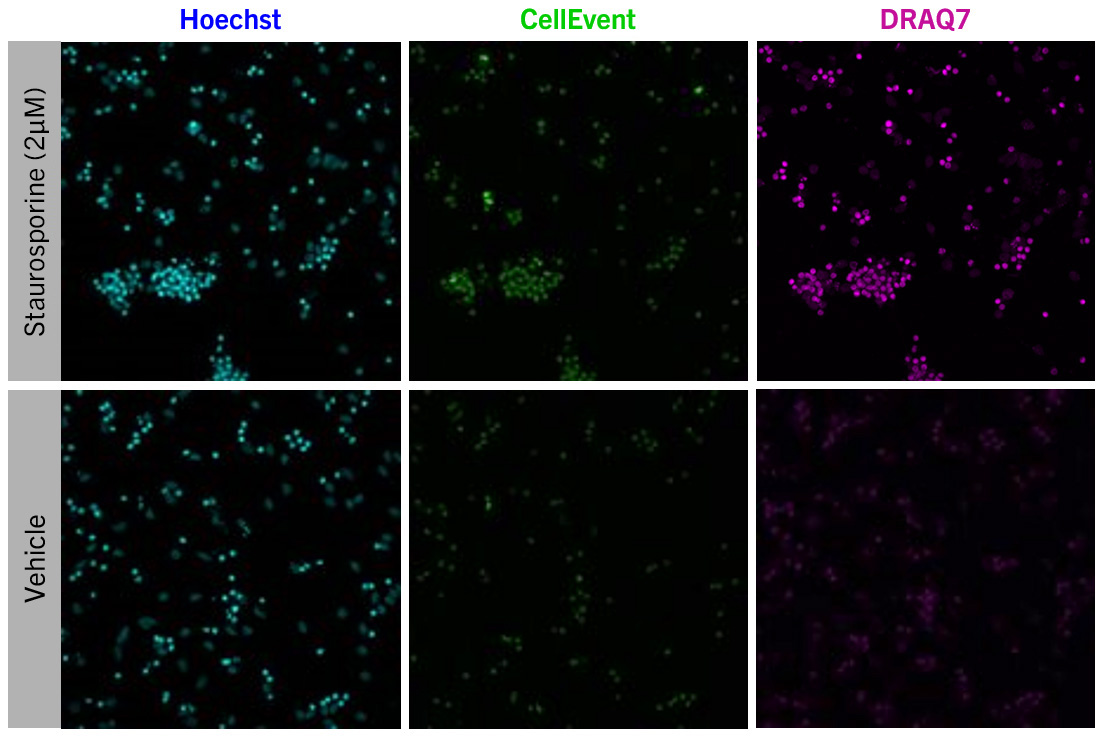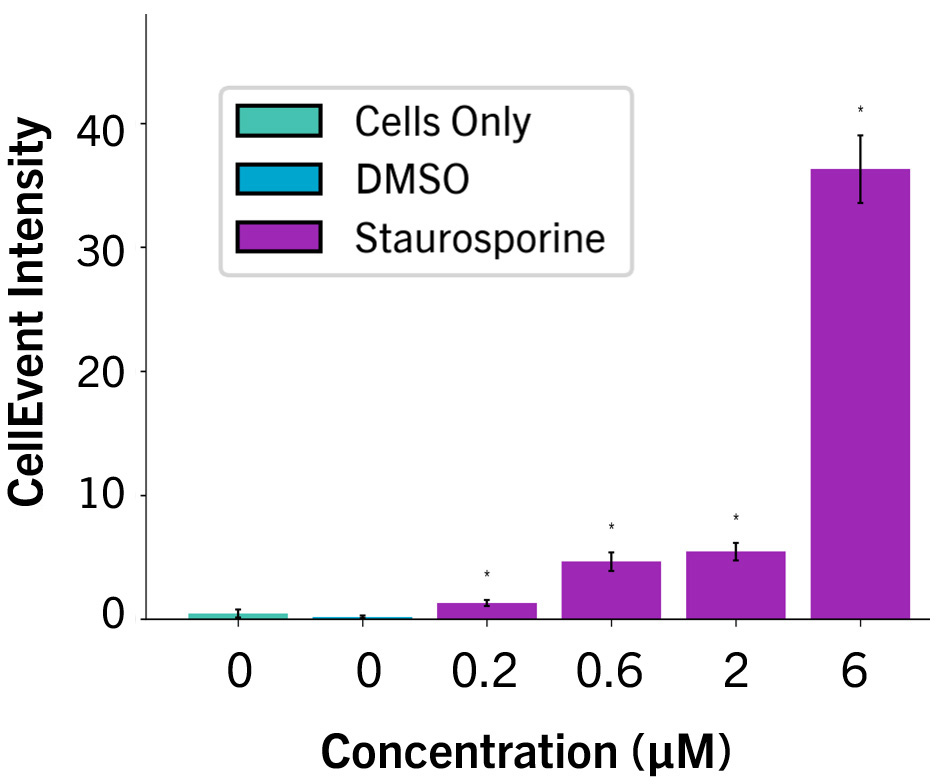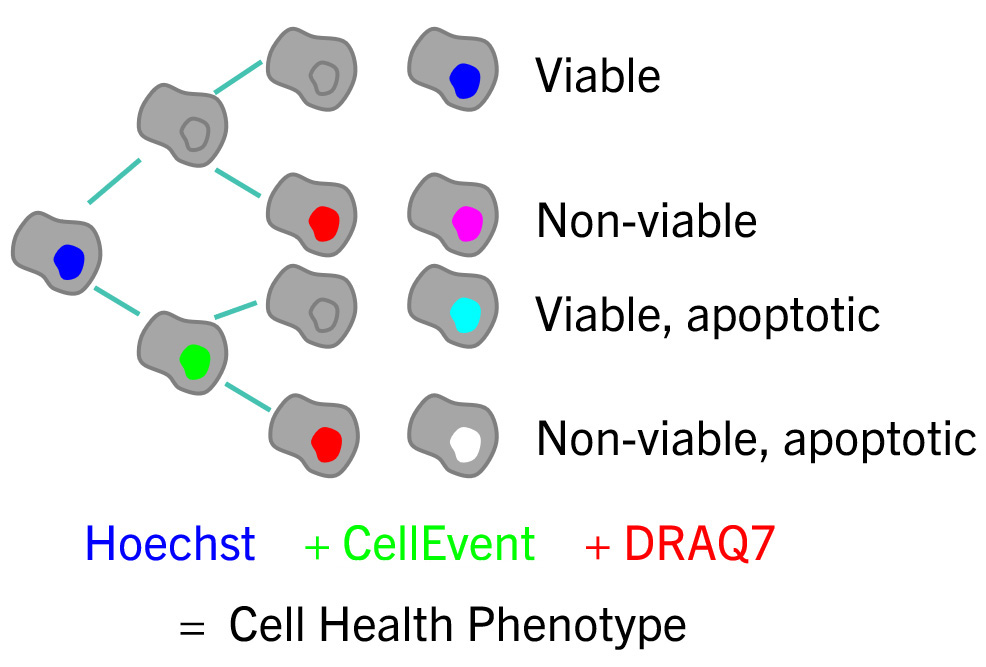 Ready-2-Go Neuronal Apoptosis & Viability

Bespoke Assay Services
Cell Type
iCell Glutaneurons (Fujifilm Cellular Dynamics, Inc.)

If you would like to expand the service offering beyond R2G shown on the left, please contact us.

Markers
Hoechst (all nuclei), DRAQ7 (dead nuclei), and CellEvent (apoptotic cells)
Dosing

6 doses of your test article

Time Points

4, 24, and 48 hours

Reference Compounds

Staurosporine

Assay Readouts

Total cell count, % apoptotic cells, total apoptotic cells, total intensity of CellEvent, % viability