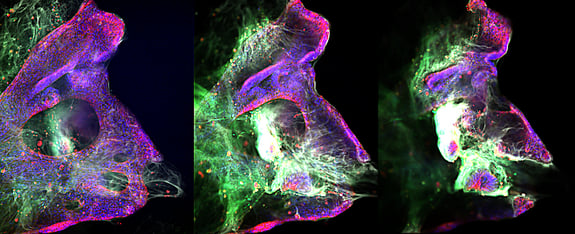 3D Cell Biology
The transition from 2D assays to 3D biology is much more than a one-dimensional problem. We can help you navigate this new space.
Overview
Our mission to incorporate the most relevant disease models into the services we provide has provided us ample experience working with 3D models. This allows our customers to access the benefits of 3D cultures, without the need to acquire the expertise and specialized equipment needed for these studies. The benefits of 3D culture go beyond their direct use to model various diseases in drug discovery. For example stem cells grown in 3D show faster rates of proliferation, which can shorten timelines significantly. One of the more common stages of drug discovery where 3D models has provided benefit is in safety and efficacy testing where drugs that may appear quite efficacious in 2D models show little response in 3D. This can occur if the inner layers within a 3D model are difficult inaccessible to the drug therapy.
Bespoke Assay Service
Case Study #1: Ex-vivo Patient-Derived Xenograft (PDX) Studies
Objective: Client was interested in evaluating chemotherapeutic agents, including standard of care, and combinations in ex vivo NSCLC PDX models.
Design: PDX tumors were dissociated to establish 3D tumor fragments that were cultured in vitro and subsequently tested with high-content imaging
Study Execution: We partnered with Champions Oncology to perform ex-vivo studies on their patient-derived xenograft (PDX) models. The >1200 models represent a diverse set of tumor types with extensive clinical and molecular characterization and can be used for evaluation of therapeutic treatment.. We generate 3D tumor fragments from the PDX tissue, for rapid, in vitro assessment of therapeutic candidates (small molecules, recombinant antibodies, immuno-therapies, and combination studies).
Bespoke Assay Service
Case Study #2: Gut Enteroids as a Model for Gut Injury Disease
Our client was interested in identifying compounds that could protect against gut injury disease and needed a model system that recapitulated intenstinal biology. DefiniGen provided a stem-cell derived organoid for testing both stress and protective effects of client molecules.
Advantages: Organs form intestinal lumen, allowing for modeling the disruption of epithelial barrier and tight junctions. Organoids can be stained and imaged, then analyzed using 2D max projections or true 3D object analysis depending on your study design. Data quality was improved even further by selecting organoids based on size, shape, and fluorescence intensity using the Cell Handler prior to performing the screen.
Contact Us
Let's discuss how we can help with your research.