We bring cell biology to light
By offering services that combine expertise in the generation of complex cell models with high-content imaging and analysis.
Our Mission
We are a team of scientists, engineers, data scientists, and support staff who share a passion for life and its incredible diversity. Just as our clients benefit from the incredible diversity of biology to develop safe and effective drug treatments, we too find strength in our varied backgrounds ranging from plant biology to neuroscience. We also recognize the value that focus brings to our various backgrounds, which is one of the reasons we offer dedicated high-content imaging services and look for team members with some experience in this methodology. This does not just apply to our research team either. Our commercial leaders have a wealth of knowledge in coupling cell-based assays to high-content imaging gained from first-hand experiences at places such as the Broad Institute, Astrazeneca, and elsewhere. Our diverse backgrounds in the life sciences, applied to a shared purpose, provide you tremendous value from the beginning of the process to the end.
Our Focus
We believe that a proper understanding of cell biology must include the visual observation of cellular phenotypes in their intact state (i.e. through microscopy) and should be communicated through quantitative analysis whenever possible, but MUST include an understanding of the cell biology from the beginning. Otherwise, the information is useless at best and deadly at worst.
To support this goal, we provide automated, high-content imaging services that combine expertise across cell biology, microscopy, and image/data analysis with your needs to find the right balance for the project.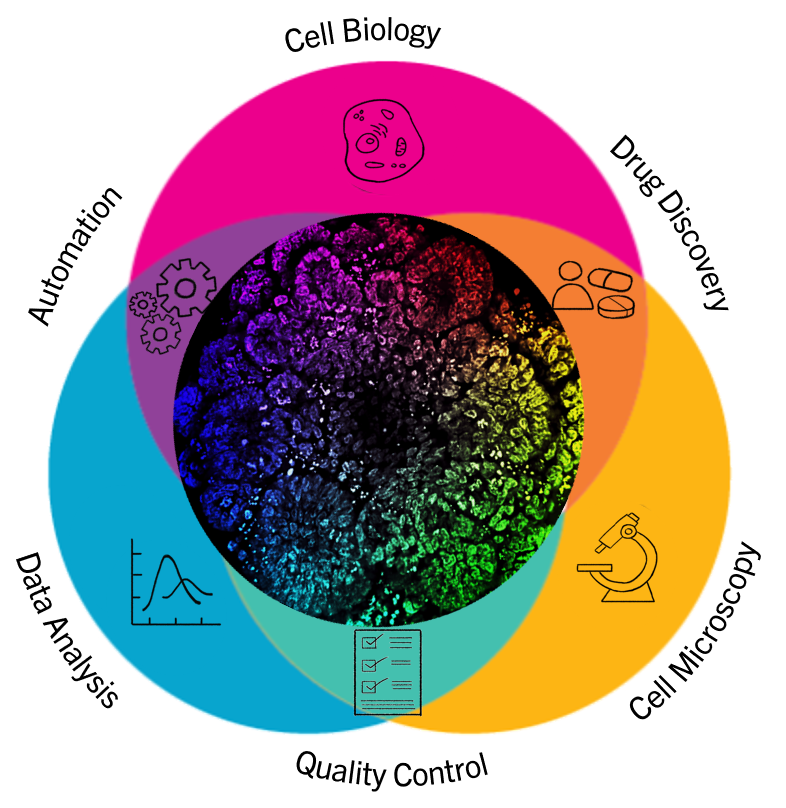 Core Expertise
Cell Biology: One of our core expertise is in assay design using cellular models that are highly relevant to the question at hand, ranging from 2D mono-cultures of immortalized cell lines to 3D tri-cultures of iPS-derived neurons in a microfluidic device.
Microscopy: We understand that cell-based imaging assays come in many different colors which may require different hardware. We are equipment agnostic and have a variety of equipment available to find the optimal solution for your assay.
Image/Data Analysis: We use traditional computer vision techniques coupled with machine learning and our knowledge in the above areas to deliver the highest quality data that are fit-for-purpose.
The Benefits of Our Focus
Innovate with Less Risk
Innovation is inherently risky and requires significant investments in both time and resources. Finding a partner willing to take on that risk can be difficult. Other companies who provide 'bespoke services" often require you to provide a validated assay due to the difficulty in developing novel assays. Unlike them, we will work with you to design, develop, and execute your bespoke assay because we do difficult.
High Quality Data You Can Trust
Our combination of expertise that follow best practices established by the industry allow us to deliver data of the highest quality.
Save Time & Resources
Gain rapid access to established technologies and deep expertise vs. investing in building in-house capabilities.
What Our Customers Say
PhenoVista provided high-quality cell analysis services for us quickly and cost-effectively. Our expectations were exceeded in terms of data quality and their collaborative, adaptable nature of engagement. I would heartily recommend working with PhenoVista.
-Dr. Robert S. Hillman, CEO CeleCor Theraputics